10 · 02 · 2022
The Case of O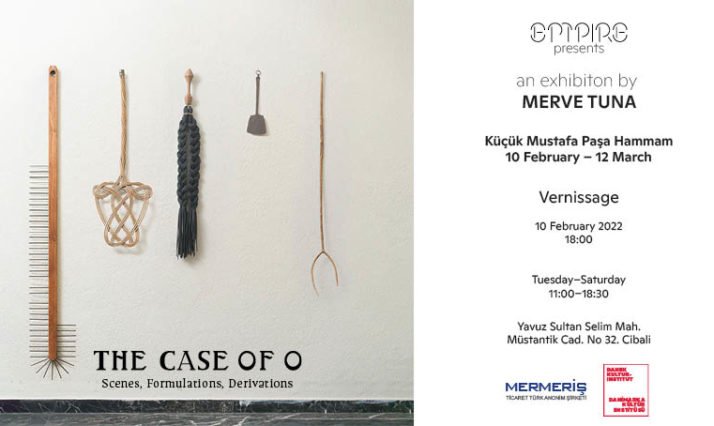 Merve Tuna's exhibition The Case of O: Scenes, Formulations, Derivations
Danish Cultural Institute Turkey has partnered with gallery Empire Project for the exhibition called The Case of O: Scenes, Formulations, Derivations by Merve Tuna. The Empire Project was established in 2010 and has exhibited the works of more than 40 artists in two different historical venues over 7 seasons, engaging a devoted audience with seminars, workshops and projects.
The Case of O is about bodies, objects, and stories. It is a culmination of Merve's background in fashion and production design; longtime interest in psychoanalysis, film, and mathematics; and fascination with materials as well as making techniques that provoke certain feelings, she finds worthy of chasing after. Walking through the various rooms of the exhibition, namely the genital, phallic, anal and oral rooms, you are surrounded by objects that are extensions, insertions, additions, stories of and references to the human body. You see bodies everywhere, very few in the form of human bodies.
Danish Cultural Institute Turkey plays a crucial role in art and cultural scenes that promote intercultural dialogue between Turkey and Denmark. In this regard, Merve Tuna's exhibition is highly inspired by her visits to Denmark in which she has had the chance to explore Danish art scene. The work she has built for The Case of O goes back many years. Since she is an avid collector and her interest in objects is based on their prosthetic aspect, she has visited many antique markets and she is intrigued by museums that exhibit tools and objects relating to the body. On her two visits to Denmark within the last four years, she has added antique medical tools and glass objects to her collection from antique markets in Skive and Copenhagen, and they have become reference points for craftsmanship, objects that she plays with in my instant photography work, and parts of final works in the display cases, object causes of anxiety. Medical Museion in Copenhagen has become a favourite of hers amongst many others and a great source that she revisits often, from medical tools and furniture used in the asylum to malformed bones. Unborn conjoined twins in jars specifically inspired her for her linoleum work Twins.
The exhibition is taking place at one of the most spectacular Turkish baths (hamam) known as Küçük Mustafa Paşa Hamamı in Istanbul. The exhibition opening is on Thursday 10th February at 18.00. However, the exhibition will be available between the dates 10 Feb – 12 Mar 2022. We are looking forward to seeing everyone at the exhibition.