18 · 01 · 2023
CultureCIVIC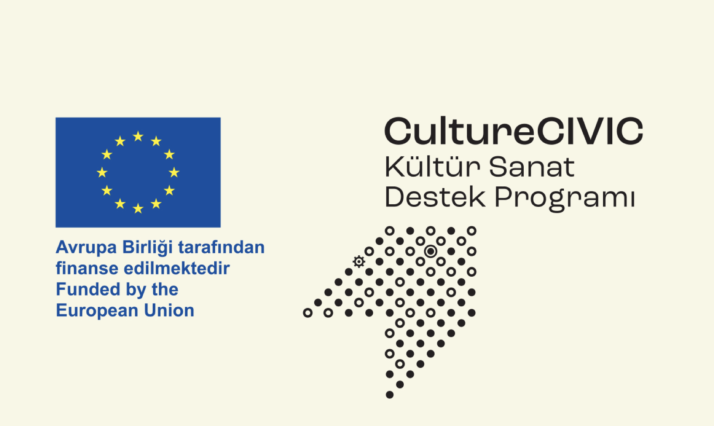 Initiated by Goethe-Institut Istanbul, Anadolu Kültür, Istanbul Foundation for Culture and Arts (IKSV), Institut français de Turquie, and Danish Cultural Institute in Türkiye, and in collaboration with the Embassy of the Netherlands in Turkey, CultureCIVIC is a European Union project that aims to foster civil society involvement in the field of arts and culture.
With a goal to reach beyond the major cultural hubs of Türkiye, the programme targets individuals and institutions nationwide with 14 open calls in four different need-based grant categories, and expects to fund over 200 projects by March 2025.
CultureCIVIC will support projects and individuals that encourage cultural dialogue and public engagement, tolerance, freedom of speech, non-discrimination, social cohesion, individual freedoms and democratic processes. Prioritising the reach beyond the major urban centres to strengthen Türkiye's cultural infrastructure with a grassroots approach, the programme is open to all cultural civil society organisations, initiatives, artists and any individuals, institutions and enterprises with a non-profit mindset.
The project will be implemented on two axes that complement each other: Grants Programme and Capacity-Building Programme.
GRANT PROGRAMMES
The project aims to contribute to the development of dialogue, collaboration and communication in the arts and culture sector across the country by supporting especially emerging artists, new cultural initiatives and actors that have a strong presence beyond the major urban centres. The grant programme that will provide funding for artists, art professionals and cultural institutions features four different categories: "Grassroots Projects", "Structural Support", "Inner-City Networking", and "Art Production".
As part of the Grant Programmes, over 200 projects and works of art will receive funding following 14 open calls. Eligible activities for funding cover a broad range such as cultural and art production, educational programmes, infrastructure support to improve performance and activity capacity of organisations, artist residencies and exchange programs. Priority will be given to those activities which support rights-based activities, bringing together actors from different ethnic, religious, linguistic backgrounds and giving special importance to cross-cutting issues such as promotion of gender equality, LGBTI+ rights, social cohesion, human rights, freedom of expression and children's rights.
Designed to reach individuals and initiatives with an impact on local communities and audiences, the Grassroots Projects Grants will provide funding for CSOs, cultural producers and activists who are working in the field of arts and culture.
Structural Support Grants aim to strengthen the operational capacity of organisations to function independently and to sustain their operations by providing structural support. These grants will extend financial support to institutions, professionals and civil society organisations in the arts and culture sector to capacity-build in education, rent and infrastructure. One long-term goal of the programme is to provide access to a larger public for their engagement in arts and culture projects and events.
Encouraging nationwide interaction and network building opportunities, Inter-city Networking Grants will focus on fostering the dialogue and collaboration between actors from different cities. The aim of this programme is supporting large-scale, inter-city projects.
Art Production Fund is intended to support stand-alone productions by emerging visual artists who will work in tandem with well-established mentors from the Turkish art scene throughout the implementation of their project. This programme aims to provide mentoring and cultural infrastructure development opportunities as well as access to artistic networks and career opportunities for emerging artists.