27 · 06 · 2023
My Eco-Art School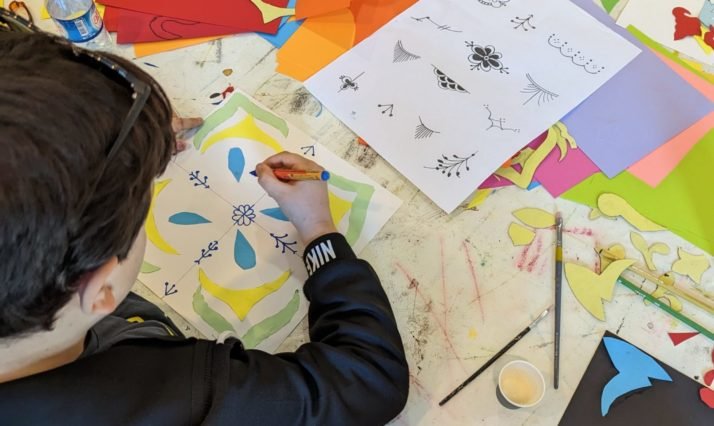 My Eco-Art School
In collaboration with Elgiz Museum in Istanbul and Istanbul metropolitan municipality's Mahalle Evi in Cibali, Danish Cultural Institute Türkiye set to facilitate a series of workshops, inviting both Danish and local artists to create a space for children to learn about sustainable practices and natural products through creativity. Inviting the children through the local daycare offer for workers, the workshops also aim introduce art and sustainable consciousness to children of a less privileged socio-economic background. 
Windmills 
18th of March Danish artist Amir Zainorin joined us in Istanbul to host a workshop at Elgiz Museum. With the aim to teach children about sustainability and renewable energy sources, Amir introduced the children to windmills as an iconic symbol of Danish culture. The workshop emphasized the significance of recycling by having the children use used magazines and papers to create unique art pieces, which were then planted in pots to promote environmental consciousness.  
Porcelain and Ceramics
The following weekend Danish artists Katrine Marie Nielsen and Kerstine Sofie Nielsen hosted two workshops in Cibali Mahalle Evi and Elgiz Museum. Introducing Danish porcelain designs and traditional Turkish ceramic designs to the children, Katrine and Kerstine gave the idea of combining these designs in a creative way. With paper and scissors the children were then set loose and they had so much fun!   
Forest and Sea
On April 15th and May 13th, we were thrilled to host two more workshops at Elgiz Museum, this time in collaboration with Turkish artist Yusuf Güngör. Yusufs first workshop had the theme of forests, where children created their own forests inspired by the rich woodlands of Denmark and Türkiye. At the following workshop the sea was the theme of the day. Through an enlightening presentation, children discovered the fascinating sea creatures inhabiting the coastal waters of both countries. After the talk, the children unleashed their creativity by crafting their very own aquariums.  
Thank you to our artists Amir Zainorin, Katrine Marie Nielsen, Kerstine Sofie Nielsen and Yusuf Güngör as well as Elgiz Musuem and Cibali Mahalle Evi for the collaboration.